This is a screenshot of a Zoom meeting on a Windows laptop from the point of view of a participant. This is how your display should look. Read below for further instructions.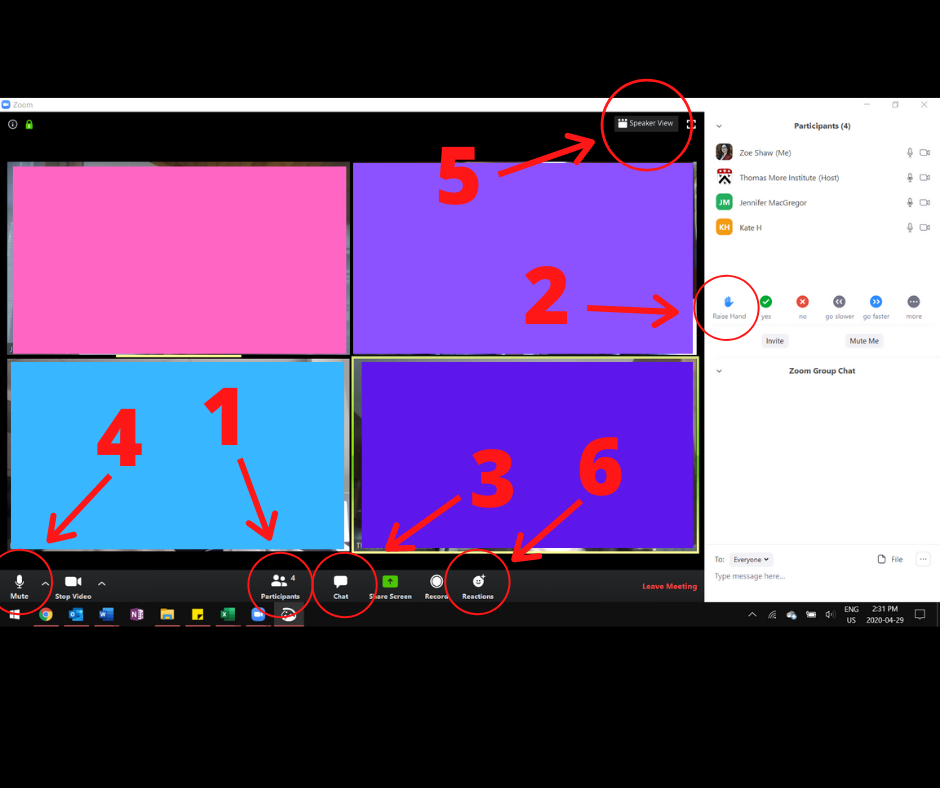 TMI Course Leader Mary Maler has assembled a wonderful guide to using Zoom on an Android tablet, which differs slightly from the interface on computers and iPads. Read it here.
RAISE YOUR HAND
Click the "Participants" button at the of your screen (1). This will open a sidebar on Zoom that displays the names of each participant and your available actions.
To raise your hand, click "Raise Hand" (2). A small blue hand will appear next to your name and the host will know that you would like to speak.
OPEN THE CHAT WINDOW
Click the "Chat" button at the bottom of your screen (3). The chat window will appear in the sidebar.
Please open the chat feature when participating in a TMI meeting. You can send messages to all participants or to individual participants that are not necessary to say aloud: web links, agenda points, and jokes!
MUTE AND UNMUTE YOURSELF
Press the microphone icon that says "Mute" in the lower left-hand corner of your screen (4). The other participants will no longer be able to hear you, but you can hear everyone who is not muted. Press the microphone icon again to "Unmute."
SWITCH TO GALLERY VIEW
Look to the upper right-hand corner of your screen, to the immediate left of the participants window (5). If it says "Gallery View," you are currently in Speaker View and you can click this button to switch to Gallery View. Vice versa.
TMI meetings are based on conversation just as they are when we hold them in our offices. Zoom has two display options for meetings: Gallery View, which shows a few dozen participants in small boxes with the current speaker highlighted in green, and Speaker View, which features the current speaker in a large box in the center of the screen with a few participants displayed above the speaker. We recommend using gallery view so that you can see most of the people in the meeting. The number of people displayed will vary depending on the size of your device. Android devices (phones and tablets) and iOS phones will only display up to four participants on one screen even in gallery view, but you can swipe left and right to see all of the participants.